Office furniture Della Rovere: Our Awards
TRIENNIAL MILAN
As every year, on the occasion of the Salone del Mobile, Area, international architectural magazine published by Editorial Team Sole 24 Ore, organizes cultural events in the Fuorisalone. Will be present at the Triennale with a retrospective on the work of Karim Rashid, "Karim Rashid - From the beginning", to be held April 12 to 17. A journey dedicated to his work, his career, his wits and then its projects and products for major companies worldwide. Videos, drawings, installations, products, will be the protagonists of the exhibition curated by prof. Marco Casamonti, editor of the Area.
Among the most significant of the career of the designer, the organizers have selected the desk ZERO Della Rovere. Stylish and functional product with innovative materials in the area of ​​office furniture for this special occasion was made with textured black paint.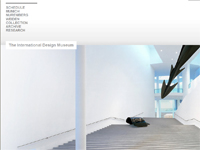 INTERNATIONAL DESIGN MUSEUM
The Zero desk designed by Karim Rashid is on permanent display at the Museum of Die Neue Sammlung (International Design Museum) in Germany.
GOOD DESIGN AWARD 2008
One of the desk designed by Karim Rashid won the prize ambitious "Good Design Award 2008".